Phonics at Carleton Endowed CE (VA) Primary School
At Carleton Endowed CE (VA) Primary School the systematic teaching of phonics is of high priority and we are passionate about ensuring all our children become confident and enthusiastic lifelong readers. The intent behind out Phonics approach is to:
Deliver a high-quality systematic synthetic phonics programme, which is followed with rigour and fidelity so that children are taught consistently to use phonics as the route to reading unknown words.
Ensuring the pace and structure of the phonics programme is maintained so that children become fluent, independent readers by the end year 1.
 Ensure children's reading books show a cumulative progression in phonics knowledge that align to the grapheme-phoneme correspondences they know to support decoding skills.
Implementation: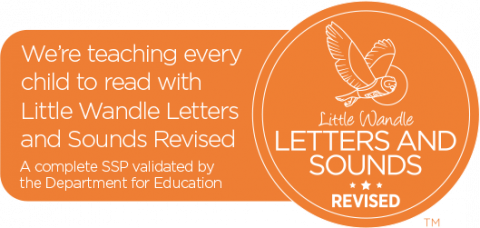 At Carleton Endowed CE (VA) Primary School, we use the Little Wandle Letters and Sounds Revised to plan and provide daily engaging phonics lessons. 
Within these lessons, children are taught to read letters or groups of letters by saying the sound(s) they represent.  Children can then start to read words by blending (synthesising) the sound together to make a word.  Children are taught to apply the skill of segmenting (breaking up) words into phonemes to spell, and that blending and segmenting is a reversible process.  We do this through a 30-minute teaching session per day in Reception and Year One.
We work through five phases from EYFS to Year One and daily keep-up lessons ensure every child learns to read. Phase 5 of the phonics programme is recapped throughout the autumn term in Year Two and phonics instruction also continues in Year Three and beyond for children who have been identified as needing additional phonics teaching.
Phonics does not stand alone at Carleton Endowed CE (VA) Primary School. We integrate this into many areas of the curriculum, referring back to sounds wherever possible. 
Below you will find our tutorial video, which explains the basics of phonics and how to support phonics at home. 
Impact:
Through the consistent, systematic and daily teaching of our phonics programme, our aim is for children to become fluent, confident readers by the end of Key Stage One. Half- termly assessments are conducted to measure the impact of our phonics approach and pupil attainment is measured through the phonics screening test at the end of Year 1. Senior Leaders in school complete termly learning walks to monitor the teaching and learning of phonics.